LTC
Jump to navigation
Jump to search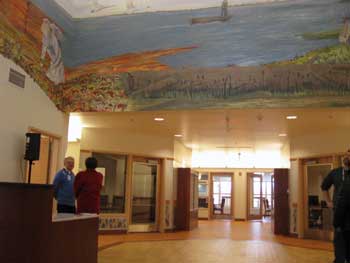 Long Term Care Facility - YK Elders Home
YKHC's skilled nursing and long-term care facility, the Yukon Kuskokwim Elder's Home, opened in early October of 2013, providing 24-hour skilled nursing and critical health care and hospice services previously only available outside of the region.
Long term care and skilled nursing facilities provide vital care to clinically complex patients that require inpatient care for extended periods. For the YK region, most of these patients would be referred out to facilities in Anchorage to the Alaska Native Medical Center or places like Providence Extended Care. A long-standing request by YKHC Board of Directors and the region's 58 federally recognized tribes, the Bethel facility will make it easier for our region's patients which require hospice to receive care closer to home, in a culturally appropriate context, and allow them to not feel the isolation or sense of abandonment that many patients have experienced historically when leaving their village or region in the past.
"We have championed the need for this facility for quite some time, and we are elated that the YKHC workforce has worked so hard to correct all findings in order for us to be a sustainable operation, allowing us to bill for services," said President/CEO Dan Winkelman.
The construction of the facility began in August of 2011 and was funded largely through the State of Alaska's general fund appropriations. The YKHC Executive Board had to make some tough decisions, understanding they would operate at a loss of $1.1 million in the first year. The new facility can accommodate up to 18 residents. Obtaining CMS certification has allowed YKHC to bill for services and make the investment in this home financially sustainable into the future.